Steve Austin, Martial Arts Instructor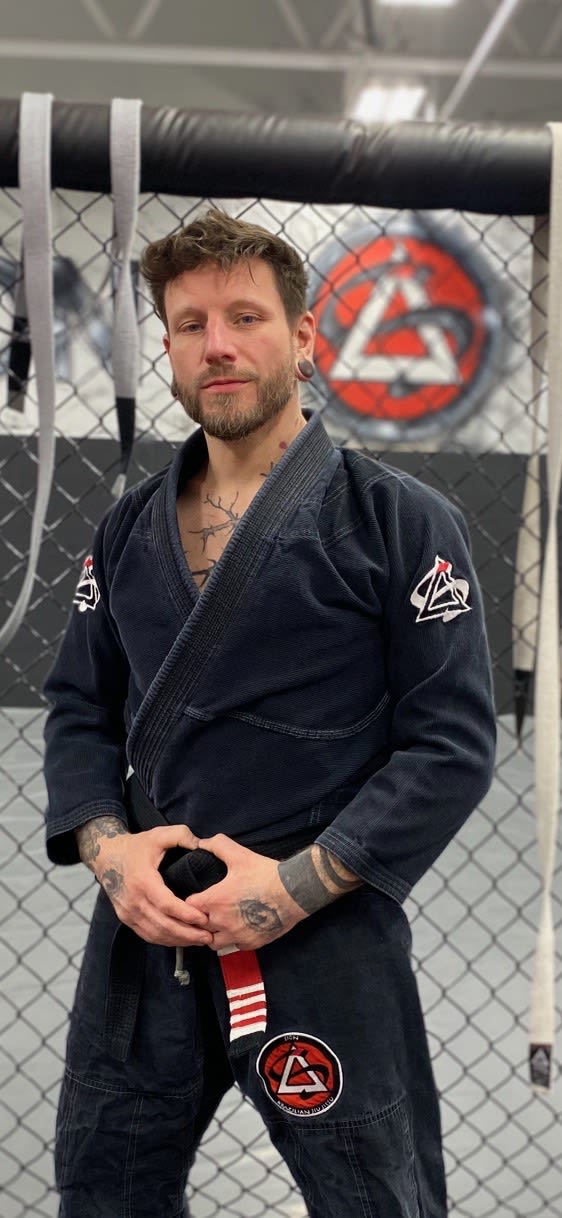 Steve Austin
Steve Austin is a 2nd Degree Black Blelt who is a Philadelphia native and is the owner and operator of Sion Brazilian Jiu-Jitsu in Bucks County PA. Born with Legg Perthes (a degenerative disease affecting the hip) he was disabled as a child from the age of three to seven-years-old, confined to leg braces and limited on physical activity. Due to the fact that most children do not develop symptoms of Legg Perthes until their adolescence, Steve was misdiagnosed with spina bifida and given an unnecessary surgery. After the surgery, Steve was left with life long complications. Over the next few years, more surgeries followed rendering him very fragile and vulnerable to injuries. Simply falling the wrong way could have dire consequences. It wasn't until his teenage years that sports and recreational activities were allowed to be joined, though heavily restrictive.
Due to the nature of these ailments and the circumstances surrounding them, Steve became a target of physical and mental bullying. A long interest in martial arts paired with a need for self defense, Steve found Tae Kwon Do. Then Kempo. And finally Brazilian Jiujitsu. Through jiujitsu, Steve was able at last to find peace and a healthy outlet for the stress in his life.
Steve received his blue belt from Marco Santos and began training MMA. After an amateur career and coming to terms with the fact that his medical issues would get in the way of him going pro, he decided to focus on the grappling and self defense aspect of martial arts. He received his purple belt from Helio Seneca, and his brown and black belt from Alison Juca Brites. Over the years studying wresting and judo along with BJJ, Steve now trains with some of the biggest names in the industry; Henry Akins, Ryron and Rener Gracie, and Kroyler Gracie to name a few. He has competed in local tournaments such as Grapplers Quest, Naga, and The Goodfight, along with pro level events such as IBJJ, Metamoris Challenger and is currently a FIGHT TO WIN competitor.
Being in the Jiujitsu community for almost two decades now, Steve has been able to branch out in 2014 and start his own gym called Sion BJJ in Southampton, PA. Sion has since turned into a brand for apparel and retreats around the world. Steve often teaches at other BJJ camps such as BJJ Globetrotters and hosts Sion's own jiujitsu retreats. Being a certified in GST (Gracie Survial Tactics) Steve works with local police in the Bucks County area such as Bensalem PD, Lower South PD, Falls Township PD, and Hatboro PD and currently is adding on other departments. Sion also is a proud affiliate of Balance Studios in Fishtown. Throughout the years, Steve has built up a list of high profile clients such as Maynard James Kennan, (lead singer of TOOL, A Perfect Circle, and Pusifer) Gil Sharone, (drummer for Marlyn Mason) and Hugh Fitzgerald, head BJJ instructor at 87Eleven Action Design which is responsible for the training and fight choreography of movies such as the John Wick series, and Atomic Blonde.
Over the past twenty years, Steve has consistently challenged himself day after day not only in life but in martial arts as well. Now his goal is to pass his knowledge on to others and help them become what they were meant to be at Sion BJJ.